If you visited cpsa.ca this week (or if you're reading this article right now!), you likely noticed our website has a whole new look!
In November 2019, we introduced you to a new direction for CPSA that furthered our promise to be approachable, collaborative, consistent, informed, thorough and transparent in all areas of our business.
Our website is a huge part of our business and an important resource for Albertans, physicians, facilities, partners and CPSA's team. We knew the next step to walking-the-walk with our new brand was to overhaul our website.
Here are some of the key changes and new features we want to highlight for you:
Audience-based navigation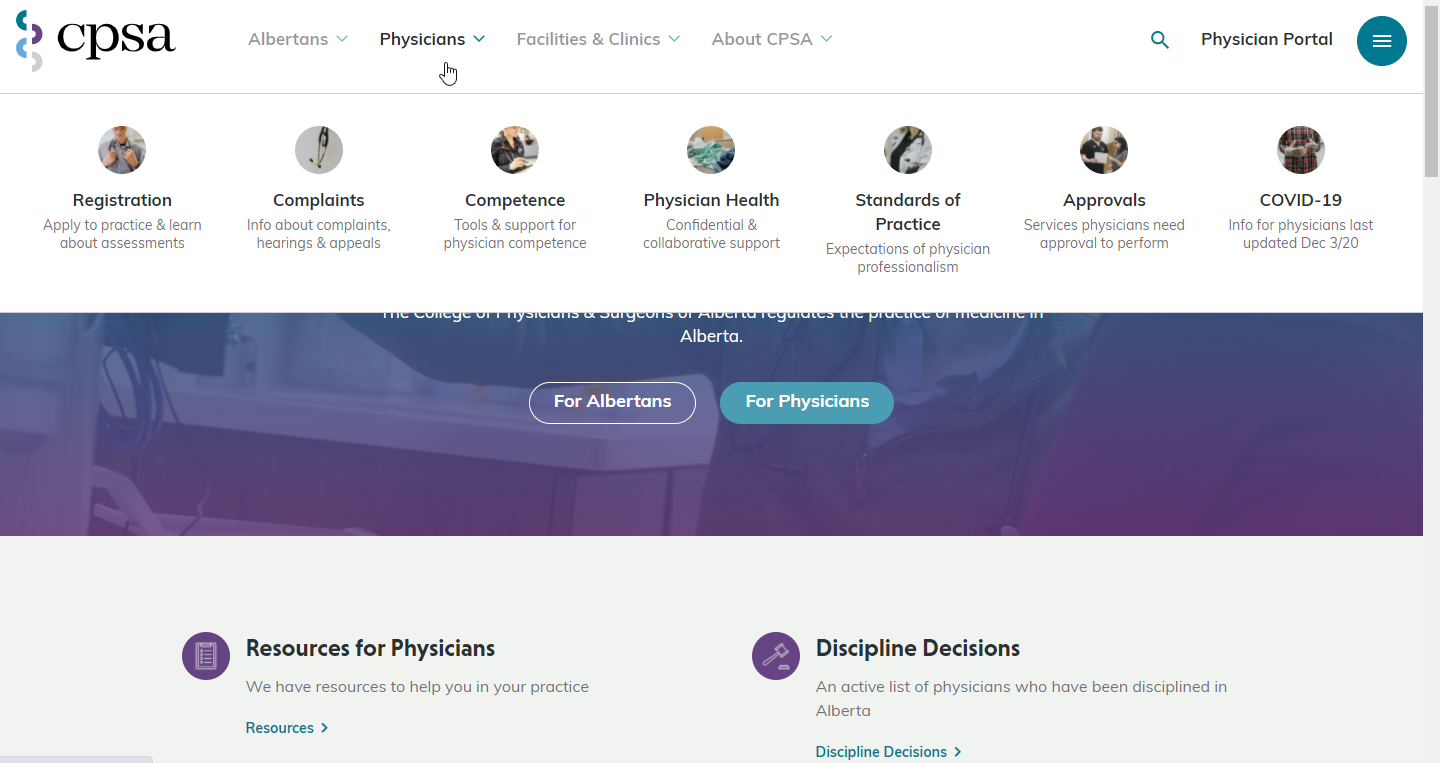 One of the most significant changes on our new website is the navigation. We've moved entirely to audience-based navigation to ensure Albertans, physicians and facilities can easily find the information they're looking for. Not only does this help streamline our content, it also makes it logical and intuitive for users to find the information they need, when they need it.
Content written for you
This new navigation also allowed us to create content written specifically for each audience so everyone can easily scan and digest the information they need. This means you can be more efficient with the time spent on our website.
All the FAQ & resources you need
For us, transparency means easy access to information and we want you to be able to access the information you need without issues. Our new FAQ and Resource banks allow you to filter by different criteria and search by keyword so you can easily find answers to your questions and resources to support your practice.
What's next?
We want this to be a tool that continues to grow and improve as we learn what can be better. At the bottom of our homepage, a purple banner invites you to share your feedback with us. After you've had a chance to explore the new site, we'd appreciate you taking two minutes to share your experience with us. Our new site will constantly adapt and evolve as we hear feedback from you!
Three cheers to the next chapter!