Assessing MDR in Alberta
CPSA is responsible for overseeing Medical Device Reprocessing (MDR) in Alberta medical clinics that perform procedures using reusable medical devices. We develop standards, guidelines and resources for cleaning, disinfecting and sterilizing contaminated devices.
Since CPSA began assessing the quality of MDR in Alberta's medical clinics in 2008, clinics have significantly improved in meeting critical standards for cleaning and monitoring sterility.
Interested in learning more about how our MDR assessments have improved safety in medical clinics?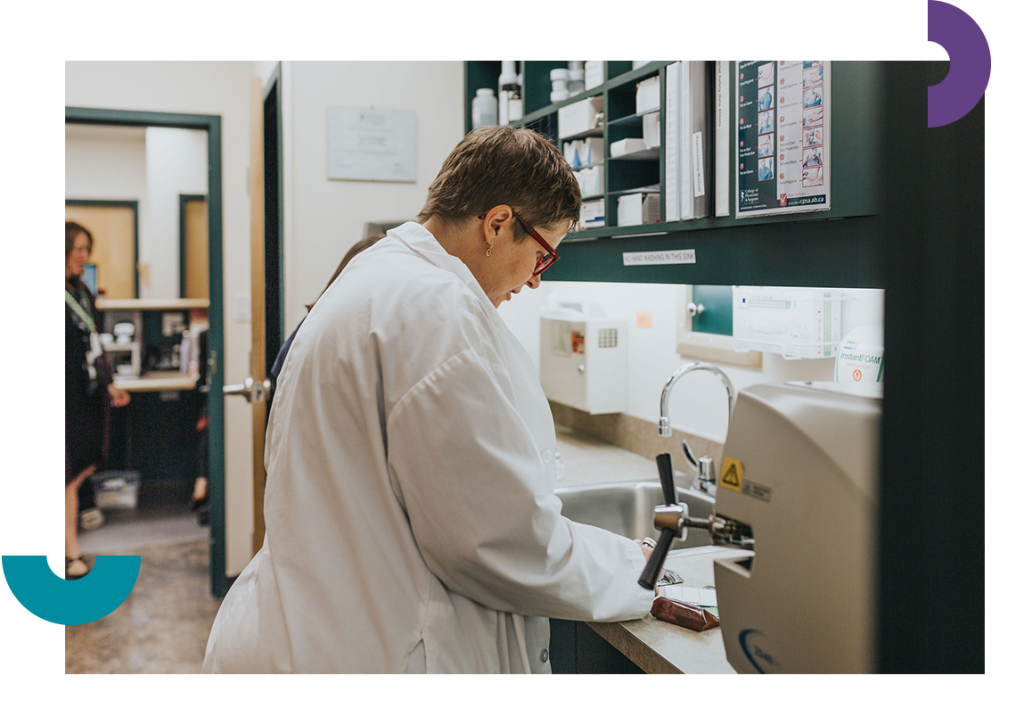 CPSA's updated MDR standards now in effect

MDR standards for clinics
Proper MDR is critical to both patient and staff safety. Our standards cover decontamination, packaging, disinfection, sterilization and other important elements for both general devices and flexible endoscopes.
Our standards are aligned with Canadian and Albertan standards. We frequently review them to make sure we meet MDR best practices.
Committee opportunity for a rural family medicine physician
Are you a rural family medicine physician who's interested in getting more involved with CPSA? If so, consider an active role in profession-led governance by joining the Infection Prevention & Control (IPAC) Advisory Committee.
Guidance for clinics
These useful resources can help your clinic meet best practices on some elements not covered in CPSA's MDR standards. We recommend reviewing and sharing them with your clinic team regularly to stay up-to-date.
Reprocessing medical devices
This guidance helps physicians and medical clinic teams understand and comply with CPSA's MDR standards. It includes requirements and recommendations for both single-use and reusable medical devices.
Cleaning reusable ear cleaning equipment
This resource shares valuable information about reprocessing tools used to clean ears. Consider this resource before you purchase ear cleaning equipment for your clinic.
Disinfecting devices that only touch the surface of the eye
CPSA is currently conducting research to find a long term solution for MDR in ophthalmology offices. In the meantime, we strongly recommend clinics follow these guidelines from the American Academy of Ophthalmology and the Joint Commission, which emphasize the high-level disinfection of any devices that touch the surface of the eye.
Tools and resources for your clinic
MDR tools and templates
To help you comply with CPSA's MDR standards, we have prepared tools and templates you can use within your clinic. Please download the following files to see examples of how you can manage your clinic's records.
Templates
Additional resources
MDR assessment flowchart
This flowchart outlines all the steps of an MDR assessment, from identifying if a clinic needs to be assessed, to surveying the clinic to learn what type of procedures they do, to the assessment and any other action CPSA might take. The complex flowchart includes lots of steps and reflects our detailed process to make sure Albertans receive safe care in their medical clinic.
Alberta Health Services' MDR Resources
Access resource manuals and best practice recommendations from Alberta Health Services (AHS) to help with outbreak identification and management, MDR education, guideline, policy and procedure development, and more.
Online MDR training
Every community clinic needs to have one staff member oversee the clinic's MDR and occupational health & safety (OHS). We recommend training your staff using either of the two courses below.
Reprocessing in community health care settings
These best practices will help you prevent the spread of infection. If you are responsible for medical device reprocessing in a community clinic, this Public Health Ontario course is for you.
In 9 modules (2-4 hours total), you'll learn:
general concepts in reprocessing
information and skills for safely reprocessing reusable medical equipment/devices
information related to the importance of following best practices and the consequences of inadequate reprocessing
best practices in reprocessing
MDR in community healthcare settings
This online course from the Canadian Standards Association includes a variety of lessons, a document library, sample procedures and self-assessment quizzes. Choose from four optional modules categorized by area of expertise.
You'll learn:
basic IPAC principles and semi-critical and critical medical device reprocessing
hands-on skills to increase the effectiveness of your reprocessing procedures
theory of decontamination
basic concepts of patient safety
Other online courses
Physicians and medical clinic staff can also take a free 30-minute module to understand their occupational health & safety (OHS) obligations under provincial legislation. Help ensure a safe working environment for you, your medical clinic staff and patients. CFPC Mainpro participants may claim Mainpro-M2 credits for this activity, while participants of the Royal College MOC Program may use this course as a stimulus to develop a personal learning project.
Subscribe to the IPAC mailing list
Subscribe to this CPSA mailing list to get the latest IPAC and MDR news, including updates to standards, guidelines, policies and new resources.
Information for Albertans
All of Alberta's community clinics are required to meet strict infection prevention and control standards. CPSA routinely assesses clinics for medical device reprocessing. If you see a CPSA certificate in your community medical clinic, it means they've been assessed under our MDR standards.
If you have a question or concern about how your clinic meets our MDR or IPAC standards, reach out to us using the contact form below.
Questions or feedback? We'd love to hear from you.
Phone: 780-969-5004
Toll-free: 1-800-561-3899 ext. 5004 (in Canada)
Fax: 780-424-5859