What Is Group Practice Review?
Group Practice Review (GPR) is a collaborative, educational process, designed to strengthen and enhance a group practice. This competence program was developed using evidence-based research to evaluate and assess medical group practices.
Clinics are selected for a visit from a nurse reviewer and follow-up meeting with a physician facilitator, who shares feedback, talks about best practices, identifies opportunities for improvement and offers resources tailored to each clinic's needs.
Participation in any Continuing Competence program is completely confidential under sections 52 and 53 of the Health Professions Act.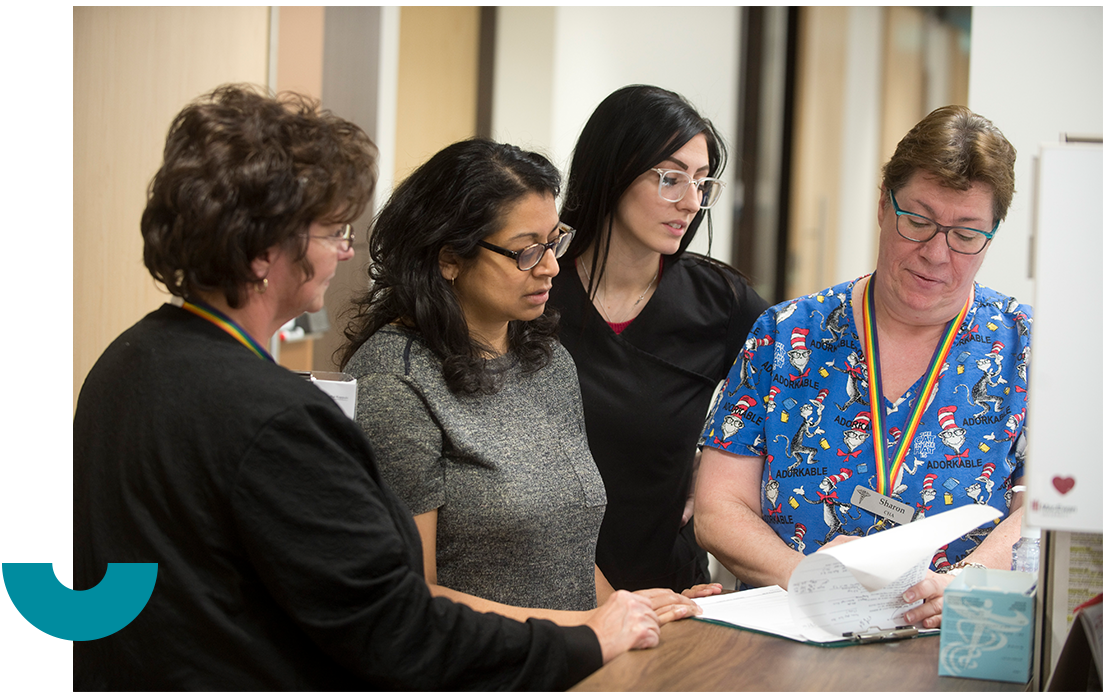 How are GPR participants selected?
Family physician and general practitioner clinics are selected to participate in GPR using a combination of the following criteria:
At random
Through CPSA's Clinic Registration process
Potential protective and risk factors of clinical performance
Previously participated in GPR and selected for follow-up
Specialists within a multi-disciplinary practice group selected for GPR are required to participate.
Physicians can also ask to participate in GPR. If you work in a group practice and feel your clinic could benefit from practice improvements but need a place to start, let us know.
"Physicians told us they wanted a group assessment tool and now we have one."
- Phong Van, Director, CPSA Continuing Competence
What can you expect from your GPR?
As part of your GPR, a CPSA nurse reviewer will look at processes, methods and improvement opportunities intended to benefit your clinic, your team and your patients. A physician facilitator will review your GPR results and other objective data, then discuss next steps with your team.
Group Practice Review recognizes that workflows and processes in multi-practitioner clinics differ from solo practice.
We want the GPR process to be easy and a valuable use of your time. Here's are some key things to expect:
Questionnaire: the letter you receive about your selection for GPR will include a pre-visit questionnaire to collect information about your clinic.
Practice visit: we will contact you to arrange a virtual or on-site visit. These usually take around three hours total, during which your nurse reviewer will conduct a Standards of Practice (SOP) review. They will also look at quality indicators (like exam room inspections and patient chart review) and conduct a 30-minute interview with the clinic's lead physician.
Follow up: a physician facilitator will meet with your clinic virtually or in-person (generally six weeks after your review) to discuss the results of the GPR and your clinic's Primary Healthcare Panel Report from the Health Quality Council of Alberta with your physician team, staff and clinic owners. This usually takes about 90 minutes. See a sample HQCA report.
Action plan: using the results of your GPR, you will develop an action plan to address any needed improvements.
Supportive resources: your facilitator will provide you with resources and support tailored to your clinic's specific needs, based on your GPR results.
Standards of Practice (SOP) review
Our standards of practice are the minimum standards of professional behaviour required from Alberta physicians. Based on the results of your SOP review, your facilitator will assess how well your clinic is meeting these standards and if any challenges are identified, provide you and your team with education and resources towards finding creative solutions.
"The GPR is a great learning opportunity for any clinic to see how they are doing as a whole and to revisit areas that may have been forgotten about."
- Past GPR participant
Is participation in GPR mandatory?
Yes. Under the Health Professions Act, physicians must work with CPSA to assess their competence. Please see our standard of practice and program manual on Continuing Competence for more information.
What if I choose not to participate in this quality improvement program?
You will be referred to Continuing Competence's Assistant Registrar to discuss alternatives.
Contact us with your questions about Group Practice Review!
Phone: 780-392-3101
Toll-free: 1-800-561-3899 ext. 3101 (in Canada)