Last consultation
Consultation 024: Restricted Activities
Consultation on the following standard of practice was open from Sept. 19 to Oct. 19, 2022:
Your feedback is important to us, but please note CPSA has a limited ability to incorporate additional changes on the Continuing Competence standard as this requirement is driven by legislation. The new standard is anticipated to come into effect in spring 2023.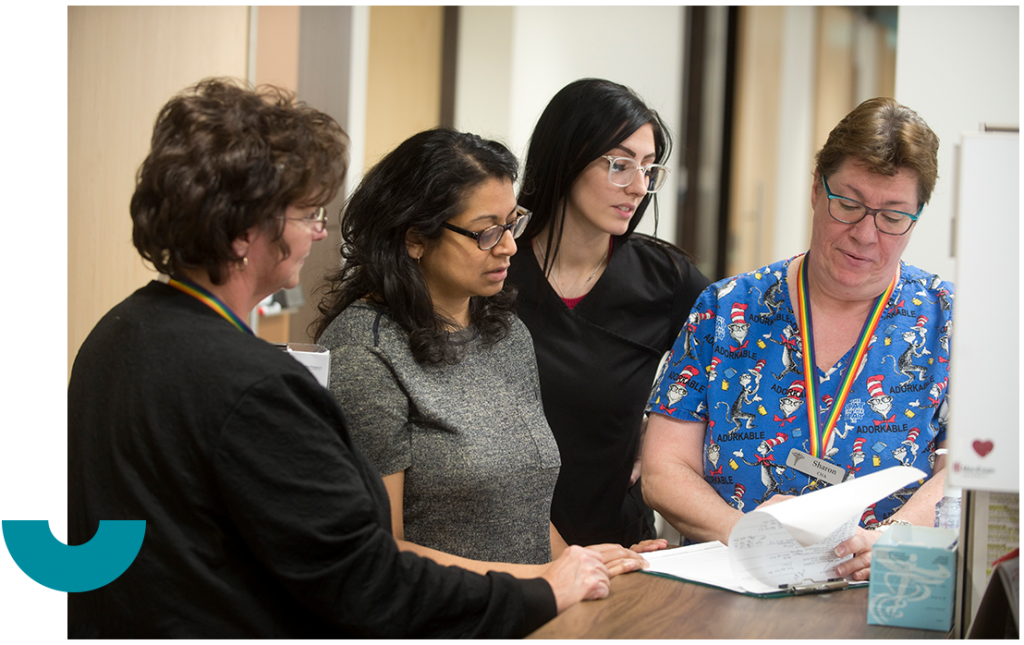 About CPSA consultations
In Alberta, we are entrusted with the responsibility of profession-led regulation, which means physicians and physician assistants play an important role in developing CPSA's Standards of Practice.
Our standards are reviewed every five years and amended as necessary to ensure they are clear, concise and meet the needs of both the profession and Albertans. Before creating new standards, we give careful consideration to whether a standard of practice is the most appropriate way to address issues or concerns with medical practice.
Before Council votes to approve new or amended standards, CPSA is required under the Health Professions Act (HPA) to formally request feedback. During our consultation period, physicians, physician assistants, Albertans, government and other interested parties (such as Alberta Health, the Alberta Medical Association and other health regulators) are also invited to participate.
Consultation process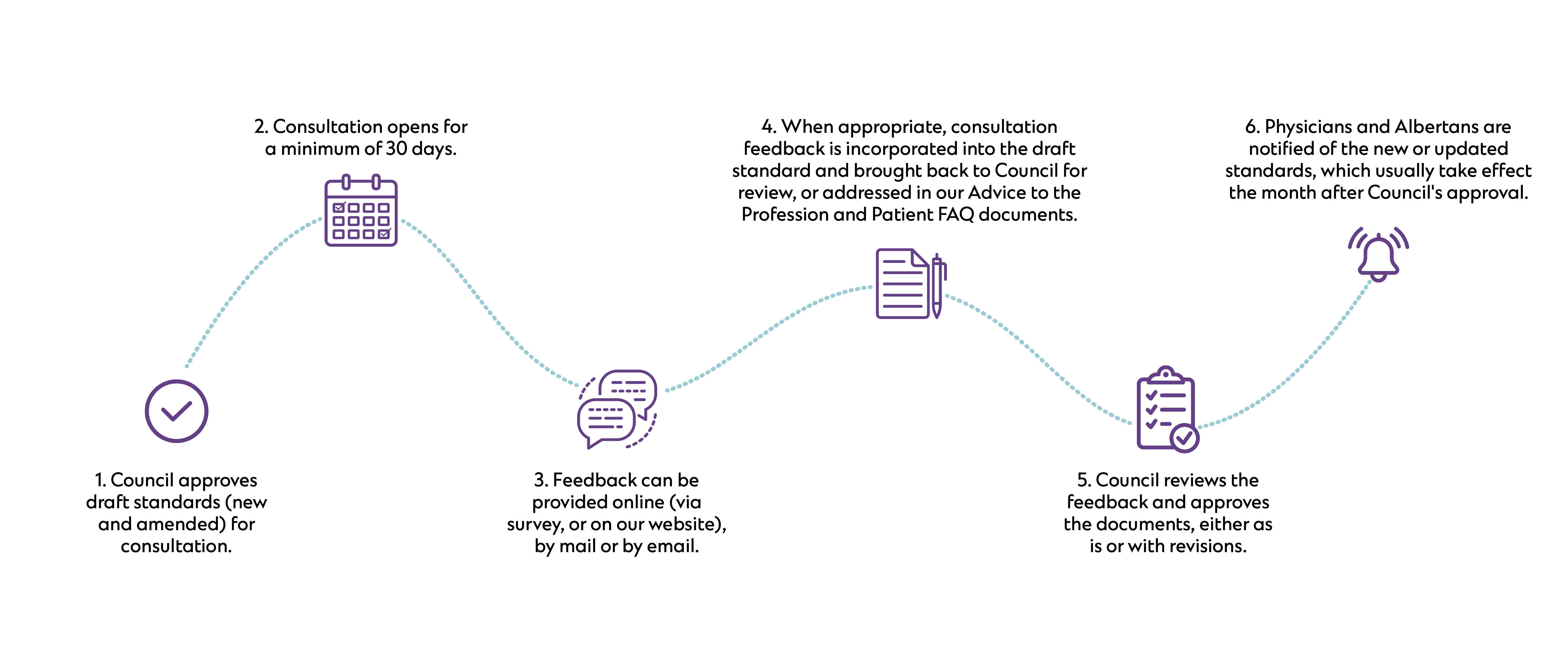 Outcomes from past consultations
See all outcomes
Consultation 023: June 6-July 6, 2022
Continuing Competence

Approved Sept. 8, 2022 (implementation date TBD)
Consultation 022: Mar.21-Apr. 22, 2022
Medical Services Requiring Accreditation Outside of Hospitals
Infection Prevention and Control
Consultation 021: Sept. 20-Oct. 20, 2021
Virtual Care
Continuity of Care
Episodic Care
Consultation 020: Feb. 15-March 18, 2021
Cannabis for Medical Purposes
Consultation 019: Sept. 15-Oct. 15, 2020
Closing or Leaving a Medical Practice
Job Action
Relocating a Medical Practice
Consultation 018: June 15-Aug. 15, 2020
Advertising
Conflict of Interest
Practising Outside of Established Conventional Medicine (formerly Complementary and Alternative Medicine)
Consultation 017: Dec. 2-Jan. 31, 2019
Duty to Report a Colleague (incorporating Duty of Treating Physicians or Physicians Working in the Context of a Provincial Health Program to Report a Physician to the College)
Duty to Report Self (formerly Self-Reporting to the College)
Consultation 016: March 11-May 10, 2019
Code of Ethics

Outcome: Reissued July 1, 2019
Consultation 015: Dec. 10-16, 2018
Boundary Violations: Sexual
Boundary Violations: Personal (formerly Boundary Violations)

Reissued (name change only) April 1, 2019
Consultation 014: Oct. 1-Dec. 1, 2018
Safe Prescribing for Opioid Use Disorder
Alberta MMT Standards & Guidelines for Dependence
Consultation 013: Oct. 2-Dec. 2, 2017
Responsibility for a Medical Practice (formerly Direction and Control of a Medical Practice)
Boundary Violations (formerly Sexual Boundary Violations)
 Practice in Association
Consultation 012: Oct. 12-Dec. 12, 2016
Job Action
Prescribing: Administration (formerly Prescribing)

Reissued (name change only) April 1, 2017

Prescribing: Drugs with Potential for Misuse or Diversion
Supervision of Restricted Activities
Consultation 011: April 6-June 7, 2016
Collaboration in Patient Care, Completing Discharge Summaries, and Continuous Professional Development
Referral Consultation (formerly the Referral Consultation process)
Transfer of Care
Consultation 010: Jan. 7-March 7, 2016
Medical Assistance in Dying
Conscientious Objection (formerly Moral or Religious Beliefs Affecting Medical Care)
Informed Consent
Assessing the Mental Capacity of a Patient
Consultation 009: July 14-Sept. 11, 2015
Patient Record Content
Patient Record Retention
Prescribing
Consultation 008: Mar 23-May 21, 2015
Advertising (formerly Advertising by Regulated Members)
Conflict of Interest (formerly Conflict of Interest Involving Financial or Personal Gain by Physicians)
Human Health Research (formerly Health Human Research Ethics Review)
Consultation 007: Nov. 25, 2014-Jan. 23, 2015
Continuity of Care (formerly After-Hours Access to Care and Preventing Follow-Up Care Failures)
Episodic Care
Establishing the Physician-Patient Relationship (formerly Establishing… in Office-Based Settings)
Consultation 006: Nov. 26, 2013-Jan. 24, 2014
Marihuana for Medical Purposes
Telemedicine
CPSA Code of Conduct
Consultation 005: Sept. 15-Nov. 15, 2013
Charging for Uninsured Professional Services
Relocating a Medical Practice
Duty of Treating Physicians and Physicians Working in the Context of a Physician Health Program to Report a Physician to the College
Terminating the Physician-Patient Relationship in Office-Settings
Closing or Leaving a Medical Practice
Alberta Methadone Maintenance Treatment Standards & Guidelines for Dependence
Consultation 004: Nov. 15-May 15, 2012
Infection Prevention and Control (IPAC) Program Rules
Health Human Research Ethics Review
Consultation 003: Sept. 15-Nov. 15, 2011
Physician Health Monitoring Program Rules
Assessment and Competency Enhancement Program Rules
Consultation 002: March 15-May 15, 2011
Advertising by Regulated Members
Patient Records
Episodic Care
Physician Prescribing Practices Program Rules and Terms of Reference
Consultation 001: Spring 2010
Self-Reporting to the College
Duty to Report a Colleague
Physician Achievement Review (PAR) Program Rules
Questions about the consultation process?
Phone: 780-969-4987
Toll-free: 1-800-561-3899 ext. 4987 (in Canada)