Read time: 2 minutes
Take a walk down memory lane as we highlight key issues of The Messenger
On July 19, 1989, the first edition of The Messenger was distributed. "Dear Doctor:" it began. "Further to the President's recent letter, general information to the Profession will be circulated via "The Messenger." You will notice that the enclosed Bylaw is printed on a letterhead which has been designed specifically for the distribution of particularly important decisions of the Council. We suggest that you establish a file for the easy reference of this and other such information which will be distributed from time to time."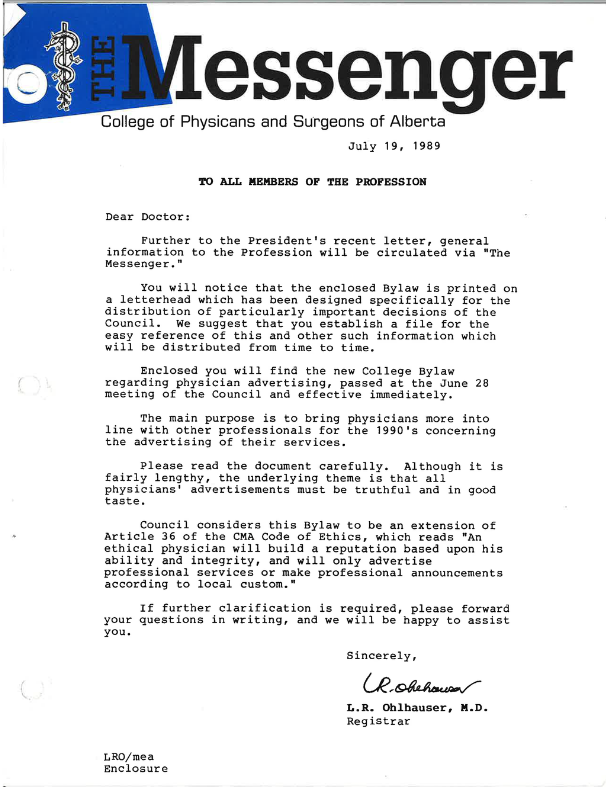 September 2022 marks the 300th edition of The Messenger and, to celebrate, we're looking back on its 33-year history. Since 1989, The Messenger has been keeping regulated members informed on CPSA Council decisions, standards of practice updates and important news regarding healthcare regulation in Alberta. Not only has The Messenger evolved with the profession, but it has also evolved with societal and technological changes. For example, in 2012, Messenger issue 172 was the first edition to be distributed electronically via email. Now, as we listen in on meetings from across the province and access electronic health records on a daily basis, the decision to shift to digital communication seems like an easy one. But as we all know, in the midst of change, the outcome is often uncertain.
| | | |
| --- | --- | --- |
| February 2003: The 100th edition of The Messenger, which showcased a new design. | January 2012: The 172nd edition of The Messenger, which was distributed electronically via email. | November 2019: The 267th edition of The Messenger, which debuted CPSA's current brand. |
Speaking of change, in November 2019, CPSA launched its new brand and visual identity. Along with our new visual identity came a new Messenger design, which debuted in issue 267. Our brand is not just our logo, but rather our values, characteristics and commitment to regulated members, which ultimately allow us to achieve our mission of protecting the public.
Part of protecting the public is understanding that each patient has a unique experience in our healthcare system based on their own lived experience. In 2021, CPSA published its first special edition of The Messenger, which was dedicated to addressing discrimination in health care, with the goal of providing physicians and our partners with a platform to bring attention to the forms of discrimination that exist in Alberta's care spaces. We hope this special edition will be the first of many, allowing us to dive deeper into the topics impacting regulated members and Albertans.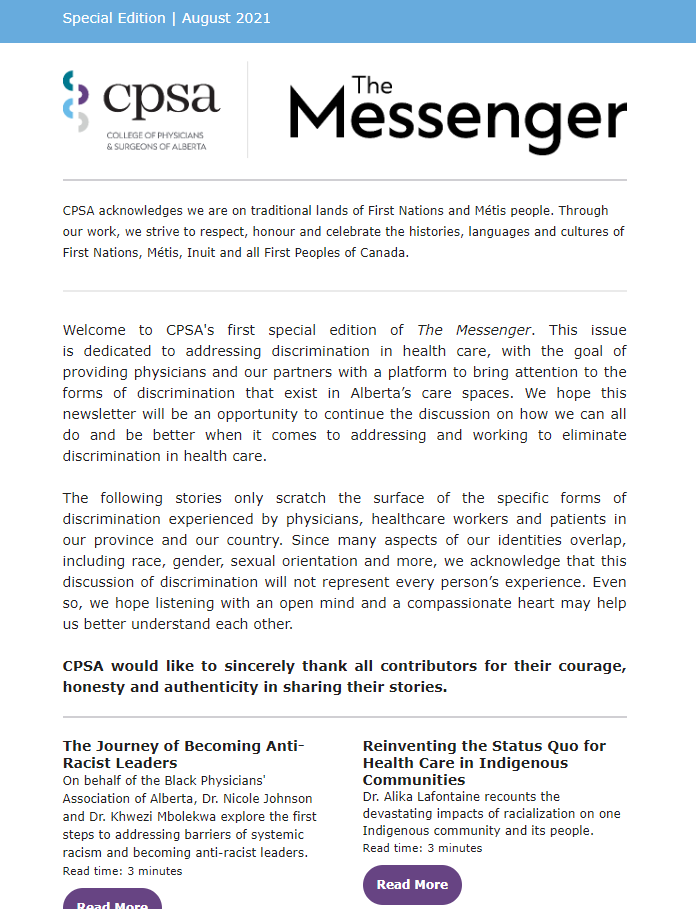 From the cover and layout to the audience size and distribution method, over the past 33 years, most things about The Messenger have changed. But through each iteration of the newsletter, the goal has remained the same: to provide physicians with the information and resources to deliver high-quality, compassionate care to Albertans.