Read time: 2 minutes
By Dr. Michael Caffaro, Assistant Registrar, Registration
In 2021, international medical graduates made up nearly 35 per cent of Alberta's physician workforce, helping provide safe and compassionate care to patients across the province. Before these physicians could practise in Alberta though, they each had to complete CPSA's Practice Readiness Assessment (PRA)—the final step to independent practice in Alberta for those who do not have complete Canadian credentials. Under the Health Professions Act, CPSA has the authority to examine a physician's clinical competence and professionalism to ensure Albertans receive the high-quality care they deserve. Like many aspects of health care, the PRA process involves collaboration between CPSA and our partners, including Alberta Health Services (AHS) and communities throughout the province. In this month's Medical Matters, I'll take you through CPSA's PRA process, highlighting the objectives, how it works and the key milestones along the way.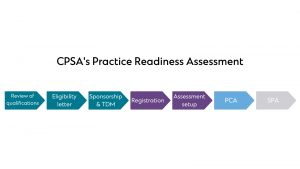 The first step for internationally-trained physicians to practise in Alberta is submitting a summary of their qualifications through the Medical Council of Canada's (MCC) Physicians Apply website. Physicians who meet the eligibility criteria for provisional registration must then apply for sponsorship from AHS, which helps make sure new-to-Alberta physicians can enter the workforce while also serving communities that have the highest need for physicians. Family physician candidates also complete the MCC's Therapeutics and Decision Making (TDM) exam.
Once candidates have completed these steps, they must then submit specific documents so we may confirm qualifications and complete their CPSA registration. We can then begin the process of finding an assessor. This may take some time as we seek out assessors that are available, qualified and do not have conflicts of interest. Generally, the PRA process consists of two parts: a Preliminary Clinical Assessment (PCA) of three months, followed by a Supervised Practice Assessment (SPA) of three months.
During the PCA, candidates work under direct observation in the medical practice of a CPSA-approved assessor. Candidates are assessed in direct and indirect patient contact, interactions with healthcare colleagues, as well as their chart management and professionalism. To successfully complete the PCA, candidates must meet the same standards as Alberta physicians practising independently.
Next, during the SPA, a CPSA-approved supervisor will review candidates in independent practice—candidates are now the most responsible physicians and can bill Alberta Health for their medical services. Supervisors continue to communicate regularly with CPSA team members and, upon completion of the SPA, candidates continue practising in the community-based setting. Candidates remain on CPSA's Provisional Register until they have either obtained their Canadian credentials or completed a follow-up assessment in their sixth year of practice. Candidates may then move to CPSA's General Register.
Through collaboration and innovation, the PRA process continues to evolve to meet physician recruitment needs. Candidates can now take their TDM exams outside Canada, assessors and supervisors can submit their documentation online and AHS Zone leadership is helping identify potential assessors. On top of these improvements, CPSA has been working hard to increase efficiency throughout the process by recruiting new assessors, accepting candidates on a continuous basis and creating more targeted assessments. Plus, CPSA's PRA was the only one of its kind in Canada to continue assessing candidates throughout the first year of the COVID-19 pandemic.
Physician recruitment is complex and constantly evolving, but it is also critically important to Alberta's healthcare system—and to patients. Recruitment is a true team effort, from the first communication with new-to-Alberta physicians to the moment they complete the PRA process. CPSA is committed to doing our part as efficiently as possible to make sure Albertans get the care they need from qualified physicians—that is our mandate, after all.
| | |
| --- | --- |
| | Dr. Michael Caffaro has been a CPSA team member since 2015 and is currently the Assistant Registrar, Registration at CPSA. Prior to this role, Dr. Caffaro worked in CPSA's Professional Conduct department for six years as Complaints Director and Assistant Registrar, Professional Conduct. Dr. Caffaro is a University of Alberta graduate and, before joining CPSA, spent 22 years as a family physician in Hinton, Alta. |