Back to All News & Events
Images from the pandemic's front lines: how a Calgary physician is documenting Alberta's COVID-19 response
Back to Messenger
June Messenger 2021, Physicians
|
Posted June 11, 2021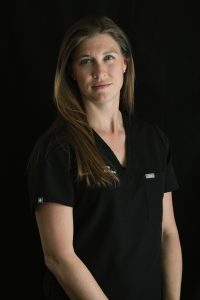 In February 2020, when Dr. Heather Patterson decided she would bring her passion for photography to Calgary's hospitals to capture what life working in an emergency department is like, she didn't realize she'd end up visually telling the raw, authentic story of Alberta's frontline pandemic response.
Dr. Patterson, an emergency physician in Calgary, has recently gained national attention for her Instagram page that, since November, has given an inside look at Calgary's hospitals and healthcare teams as they respond to this public health crisis. Dr. Patterson initially approached the project as a wellness-based initiative to celebrate the shared humanity healthcare providers experience with their patients and their teammates. "It was designed to be an opportunity to reflect about the privilege we have to care for patients and also the challenges associated with that," says Dr. Patterson.
As the project evolved and the pandemic hit our province, Dr. Patterson had the opportunity to expand the scope of the project and document what she was seeing on the frontlines in a meaningful way.
"I capture the moments as they are, and some of those moments are tragic, they're profoundly emotional or just really hard to look at," admits Dr. Patterson. "People suffering, or moments before an intubation or saying goodbye to a family member—those are hard to photograph and hard to watch, but they tell the story of what people are experiencing both as patients and healthcare workers."
The project has kept Dr. Patterson busy throughout the pandemic—she found herself in the hospital capturing photos several days a week outside of her work as an emergency medicine physician and raising school-aged kids.
As an emergency physician, Dr. Patterson sees the hard work of her healthcare colleagues every day. An important part of the project was going beyond the walls of the emergency room to show other clinical and non-clinical aspects of providing care during a pandemic, to recognize the people who have supported the whole system as frontline workers—from physicians and nurses, to admin staff, to hospital housekeeping and food service workers and everyone in between.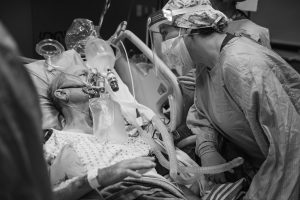 "A broader perspective and understanding of the hospital team has been inspiring," she shares. "Everyone adapted to the ever-changing understanding of what COVID was, how it was going to affect patient care and how it affected our day-to-day work. At times it felt like every day there was something new. Not only were people adapting to our new normal, but there was kindness, compassion and empathy."
Dr. Patterson explains that the progression of the project's visual storytelling aligns with how she's observed and experienced the pandemic. Her early photos show uncertainty, apprehension and mourning while photos from the second wave feature images of teamwork and collaboration among colleagues and healthcare teams. The photos captured during the third and latest wave, which Dr. Patterson considers the most challenging, document the exhaustion and sadness amongst her colleagues as they faced the possibility of losing more people despite their tireless efforts.
More recently she's been sharing stories of hope, happiness and reunion. "I have been witness to profound tragedy while photographing during the last eight months.  But I have learned that, despite the challenges we face every day, if you look for good, seek it out, it can offer hope and inspiration to keep going." she recounts.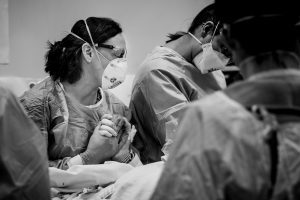 Dr. Patterson's colleagues and the many patients she's met along the way have been very receptive to the project. She describes that stepping into the role of a photographer to share stories of patients at some of their most vulnerable moments has been challenging. Patient privacy is a core value of being a physician and, due to her respect for patient privacy, she takes special care to ensure that she has a patient's full consent to share their story and photographs.
Dr. Patterson feels the project has made her a better physician because it's helped deepen her understanding of the patient journey from start to finish. "Rather than seeing a short snippet of tragedy, I see the whole patient journey unfold," she explains. "It's reconnected me with why I do what I do."
Dr. Patterson says being able to tell the story of her colleagues during the pandemic has been transformative.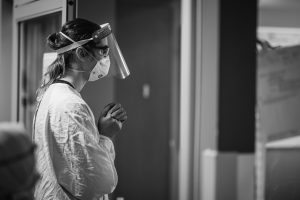 "It has been meaningful for me to stand back and watch my colleagues, how they deliver care and how they interact with all the people—whether that's patients, clinical or non-clinical support staff—it's such an honour to be part of that team," shares Dr. Patterson. "It's a privilege to work with and learn from such exceptional people, and not just exceptional physicians, but exceptional humans."
You can follow along with Dr. Patterson's visual journey on Instagram and visit her website for more information about the project.