More than 1,500 family physicians have requested a Primary Healthcare Panel Report from the Health Quality Council of Alberta (HQCA) to help improve their practice. Have you requested your report yet?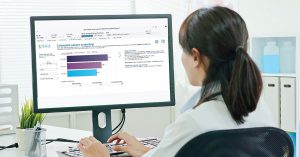 The 2021 reports are available now. This free report provides measures on continuity of care, laboratory utilization, screening and more, so physicians can reflect on their practice and compare with colleagues.
Primary Healthcare Panel Reports have been offered for about a decade now. The HQCA develops them in partnership with CPSA, Alberta Health, Alberta Health Services, the AMA, the University of Alberta, the University of Calgary, the Physician Learning Program, Primary Care Networks, and the HQCA Patient and Family Advisory Committee.
Family physicians and their quality improvement representatives can request a report here. If you've already requested your report, visit HQCA.ca to access your information.
Did you know? Reviewing, analyzing and developing an action plan based on your Primary Healthcare Panel Report from the HQCA counts as completing a practice-driven quality improvement activity using objective data under CPSA's new Physician Practice Improvement Program (PPIP).