Back to All News & Events
A reminder about prescribing high-potency narcotics for the treatment of opioid use disorder
Back to Messenger
June Messenger 2023, Prescribing, TPP Alberta
|
Posted June 8, 2023
Read time: 1 minute
In 2022, amendments to Alberta's Mental Health Services Protection Regulation impacted the prescribing of high-potency opioid narcotics for the treatment of opioid use disorder (OUD). Conventional opioid agonist treatments such as methadone and slow-release oral morphine (SROM) were not impacted by the amendment.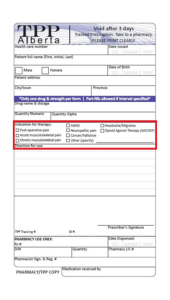 High-potency opioid narcotics include any full agonist opioid drug, such as:
Hydromorphone
Diacetylmorphine (pharmaceutical heroin)
Fentanyl
Morphine
Oxycodone
High-potency opioid narcotics for OUD can only be prescribed through licensed AHS Opioid Dependency Programs for narcotic transition services. These medications must also be dispensed by AHS-contracted pharmacies. These requirements do not apply to high-potency opioids prescribed for treating chronic pain or other illnesses.
When prescribing a high-potency opioid narcotic to treat OUD, a corresponding indication must be provided on the TPP prescription form. For example:
Under Indication for therapy, checking Opioid Agonist Therapy (OAT/ODT)
Selecting Other (specify) and noting the following indications:

Opioid Abuse Disorder (OAD)
Opioid Addiction
Opioid Use Disorder (OUD)
Substance Use Disorder (SUD)
Resources:
If you have questions about prescribing to treat OUD, please email TPP.Info@cpsa.ab.ca.