Read time: 3 minutes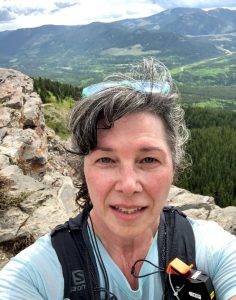 On April 1, 2021, CPSA started regulating Physician Assistants (PAs) in Alberta. When this change came into effect, we prioritized registration for the PAs already in Alberta.
Linda Parrish is one of our newly registered PAs.
Like many other PAs, Linda's interest in becoming a Physician Assistant started in the military. She did her training in Bordon, Ont. at the Canadian Forces Base Medical Service School (now the Canadian Forces Health Services Training Centre). After two years of training, including didactic training and practicum work, Linda received a B.Sc in PA studies from the University of Nebraska, which endorsed the program. She also completed her M.Sc in PA Studies through the University of Nebraska in 2014.
"My biggest wish is for more physicians to see our value and start building more collaborative relationships with PAs."
- Linda Parrish
Linda currently works in rural Alberta at the Bassano Health Centre. She was originally recruited to Bassano as part of the PA demonstration project in 2013 when she retired from the military, and she elected to stay when the project ended. She has two supervising physicians and will soon begin weekend calls with a remote supervising physician in Brooks. She is a key member of a multidisciplinary team that includes physicians, nurses, physiotherapists, and diagnostic lab and x-ray technicians. Although the specific duties of each PA depends on the needs of the supervising physician and the individual PA's training and skills, common activities include seeing and assessing patients, taking patient histories, performing physical examinations, and educating patients. Some PAs also perform medical procedures and assist in surgery.
Linda's typical day starts with morning rounds, where she sees acute care patients. Throughout the day, she sees patients from the outpatient clinic and ER, as needed. Once a week, she also assists in the procedures clinic with biopsies, casting and joint injections, to name a few. "My days are busy, but I enjoy every minute," says Linda. "I especially love the faster pace of the ER."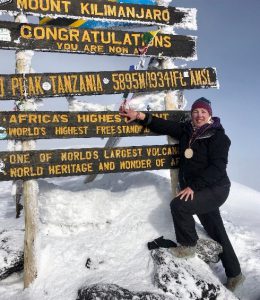 Since coming to Bassano, Linda has found more personal time compared to the military. She is an active member of the Bassano community and is a member of the Bassano Memorial Library Board as well as the Ladies Golf and Curling clubs. She also found a new joy in fitness, trail running and hiking. In January 2020, she summited Mount Kilimanjaro as part of a charity challenge, raising over $4,600 for Wounded Warriors Canada.
Like physicians, PAs pay annual fees, hold liability insurance and follow CPSA's Standards of Practice. They are also responsible for complying with our continuing competence requirements.
Linda was on CPSA's voluntary registry before regulation started and has been aware of CPSA's standards for some time.
"I didn't find any significant change to my practice as a result of regulation, and I enjoy following standards," explains Linda. For Linda, standards remove the ambiguity of her work and align her PA practice with other regulated professionals. She also said they were helpful in setting up her supervisory agreement with her supervising physicians.
"Overall, I welcome regulation and hope it brings more awareness and understanding to the PA profession," says Linda. "My biggest wish is for more physicians to see our value and start building more collaborative working relationships with PAs!"
CPSA is proud to welcome Linda and her PA colleagues to Alberta's regulated healthcare team. Having PAs support physicians and patients helps improve access to safe and high-quality care. We look forward to working with this skilled group and more PAs who register to practise in Alberta.
Alberta is the third province to regulate the PA profession, following Manitoba and New Brunswick. More information about PAs is available on cpsa.ca.
Need a PA in your practice?
The Canadian Association of Physician Assistants (CAPA) posts PA positions on their website and can email opportunities to more than 700 PAs across Canada.
Physician Assistants: Did you know, as a regulated member of CPSA, you may be eligible to run and vote in CPSA's Council Election this fall? Learn more.