Read time: 2 minutes
Signing up for Community Information Integration (CII) was an easy decision for Dr. Christina Dolhaniuk, an Edmonton-based obstetrician gynecologist. By implementing CII into her community clinic, Dr. Dolhaniuk is now able to send her patients' consult reports to Netcare directly from her electronic medical record (EMR).
"It's literally a click, set it and forget it, and it's taking great care of patients," she says.
The technology's ease of use is not the only reason Dr. Dolhaniuk signed up to participate. Here are five reasons why she uses CII in her private practice:
Reduces reliance on patient recall
Your consults on Netcare provide up-to-date information to the patient's care team, meaning patients don't need to rely on their own memories to help other providers understand their medical concerns.
Supports patients that don't have a family physician
Patients without a regular family physician can still have information included in their provincial health record for others to see. Contributing to Alberta Netcare supports continuity of care for all patients, even if they aren't attached to a primary care provider.
Provides better preparation for surgical residents
Surgical residents are able to review consult reports on Netcare prior to surgery, which helps them better understand the patient's medical needs and produces better operative reports.
Reduces duplicate referrals
With access to consult letters on Netcare, you can determine if a patient is being seen by another provider, which allows you to prioritize patients in need of urgent consultations.
Assists emergency department
If a patient is admitted to the emergency department, consult letters on Netcare help provide a full picture of their medical concerns and the plan you develop to care for them.
"The more of us that get on this program, the better and stronger the program will be."
- Dr. Christina Dolhaniuk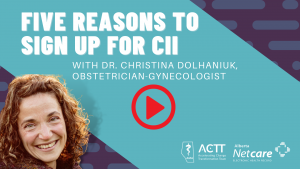 Get your consult reports on Netcare! CII is available at no cost to physicians using EMRs from Microquest, QHR and TELUS. Request more information today!