An Alberta Physician's Story of Care, Compassion and Humanitarian Work in Ethiopia
In 1992, I was practising medicine in Minnedosa, Man., living with my wife, Deborah, and our five children. A new hospital was built and everything in the old hospital was going to be thrown away. A friend of ours, who was a member of the Rotary Club, wanted to send the contents of the hospital to Ethiopia as a contribution to the relief effort after the civil war. I became involved in the project and we eventually shipped the hospital contents to an organization that re-furbished and shipped the equipment to a number of countries in need.
In the process, Deborah and I became aware of the 3.5 million orphans living in Ethiopia. We were drawn to a three-year-old boy and his seven-month-old sister who were in need of a home and decided to adopt them.
We gathered our children, aged four to 13, for a family counsel. I asked the question, "If there were some kids who didn't have any parents, didn't have a home and had no opportunity to go to school, what would you think about having them come live with us?"
Our 11-year-old daughter replied, "Are you speaking hypothetically or is this for real?"
We answered that it was for real.
They wanted to know all about the siblings. We talked about the financial sacrifices that we would have to make-they agreed to give up Christmas if necessary. We discussed the fact that the children were black; our nine-year-old son said, "I don't care if they are green!" We pulled out pictures. From that moment on, they were "our brother and sister waiting to come home to Canada."
Two years later, I was on my way to Ethiopia to bring our children home. Nothing in my experience had prepared me for what I encountered. Ethiopia had emerged from 17 years of civil war and was still fighting with Eritrea, which had split from Ethiopia a year earlier.
Ethiopia was broken. Extreme poverty was the norm. Food was scarce. Thousands of refugees were camped in lean-to tents leaning on the walls of every public building. Unemployment was about 70%. Most of the permanent residents lived in houses made of mud and sticks, with corrugated metal roofs. But the Ethiopian people demonstrated dignity unbowed by poverty and gratitude in the face of deprivation.
I decided that I would do more than adopt two orphans. I didn't know what I was going to do, I just knew I had to do something. I came home on Sept. 11, 1994-Ethiopian New Year. I sensed that this New Year would be a new beginning for me and my family.
Once home, Deb and I got together with another couple (the same Rotarian that got us involved in the first place) and formulated some ideas regarding what to do. Many people were approaching us asking how we managed to adopt from Ethiopia. We knew that there were many children who needed permanent homes and many more that needed help.
We created Canadian Advocates for African Children (CAFAC) with two mandates:
To help Canadian families adopt Ethiopian children.
To provide assistance to needy children within Ethiopia.
For the next four years, we worked with the Manitoba Government and other stakeholders to draft legislation and implement regulations making International Adoption possible. Under these new laws, CAFAC became a registered, recognized adoption agency, specifically tasked with international adoption. The adoption work took off and over the next 15 years, CAFAC processed 1,200 adoptions from 15 countries.
But our humanitarian ambitions seemed to be stalled.
We applied to the Canadian Revenue Agency (CRA) for charitable status twice and were turned down both times. We believed that adoption was humanitarian. It was an effective intervention in a needy child's life, placing the child in a permanent loving home and effectively removing the child from the cycle of poverty.
The CRA did not agree. They viewed adoption as a business and as long as our humanitarian efforts were tied to adoption in any way, they were disqualified from charitable status. So, we decided to split our dual mandate and create a second, separate organization to manage our humanitarian activities.
In 2003, Canadian Humanitarian Organization for International Relief was born. The following year, we obtained charitable status. Now we were ready to get serious about humanitarian service.
In 2004, I took a trip-for-discovery to Ethiopia. I interviewed officials from the Child and Youth Affairs office, visited existing charitable projects and visited with local groups with proposals for charitable projects. It became evident that it was not enough to just send a child to school, or to provide a meal. We could see that the children needed more and would benefit from a holistic approach; they needed to grow physically, intellectually, socially, and emotionally. They needed to know someone cared about them.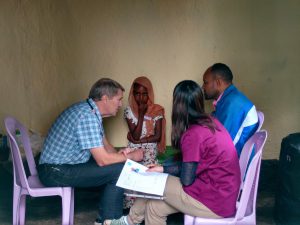 The Kid's Hope model is based on the ethic of care and the power of hope.
We worked with a group of Ethiopian visionaries and created Yenege Tesfa Hitsanat, loosely translated as Kid's Hope.
The project would enroll 40 extremely needy children into school, where tuition would be paid for and uniforms, shoes and school books provided. An education support center would be rented. The children would come to the center after school for a hot meal, tutoring and remedial education, and extra-curricular clubs such as music, dance, art, literature, debate, gymnastics and sports to round out their education.
We called for a meeting with the 40 children and their guardians, to be held at the local government (Kebele) office. They came, frightened and in rags. We explained the program in which they were invited to enroll. There were a few speeches (in Ethiopia, everyone gives a speech), then a few of the guardians spoke.
An elderly woman-grandmother to one of the children-got up and said, "If this is true, then this is the best day of our lives. But," she said as she leaned towards me and wagged her finger, "I don't dare believe it. No one has ever noticed us before."
I made a commitment at that moment that I would not-I could not-fail this grandmother.
Four months later, I returned to Ethiopia to visit the project. As I approached the house that we rented for the education support center, there was music, singing and drumming coming from the house.
I asked the project manager where the music was coming from.
He smiled and said simply, "The children."
When I opened the door, I could scarcely take it in. The transformation was almost unbelievable. The children were all dressed in their new school uniforms. They were singing in harmony and dancing to the beat of a drum. Gone were the rags, gone was the fear. Instead there was this scene of complete joy.
Since then, we have expanded our program. We have eleven centres now, servicing 605 children per year. When we started the project, we wanted to help the kids get through grade 10, then through grade 12, then through college or university. We started a scholarship program for all children going on to post-secondary education. Over 1,100 children have graduated from university, college or vocational training. One girl-who was a 12-year-old orphan when she came into the program-has completed medical school and is currently in residency in Gondar.
Many others are married, working and having children. They have left the ranks of the destitute and joined the productive, working middle class. Their children will not need our programs.
Our model is working. It is founded upon two principles: the ethic of care and the power of hope. When children know that there is someone who cares about them, they increase in confidence and self-esteem. They are no longer invisible. Over time, they begin to sense that they are of worth. They begin to hope for a better future for themselves.
This is not an idle wish, but the full expectation that they will succeed if they do their part. It is this hope that empowers the children to work hard and persevere in spite of current challenges. What we're doing with these children is not easy work, but their success keeps us going.
An important aspect of our programs is volunteerism. Volunteer expeditions are held at least three times per year. Volunteers bring many skills and provide many services, but they also affirm to the children that someone cares about them, that they are of worth.
In the past 10 years, 463 volunteers have travelled with us-48 physicians, seven dentists and 227 other professionals-rendering approximately 43,853 hours of service. Many of the volunteers remain engaged in some form of humanitarian service after they return home.
For many, myself included, it is truly a life-changing experience.
If you'd like to get involved with the important work of Canadian Humanitarian, please visit their website to learn more at canadianhumanitarian.com.