A message from the Retina Society of Alberta and Eye Physicians and Surgeons Association of Alberta
Read time: 2 minutes
Pentosan Polysulfate sodium (PPS), also known as Elmiron, is an oral medication prescribed for the treatment of interstitial cystitis (IC). PPS has been used to treat IC since 1996.
A dose-related progressive retinal maculopathy is associated with long-term use of PPS. The retinal changes from PPS include macular edema, neovascularization and retinal pigment epithelial hyperpigmentation followed by atrophy. Severe vision loss is associated with late PPS maculopathy.
PPS maculopathy was first described in 2018.[1] The prevalence of maculopathy appears to be directly proportional to cumulative dosage, with one study showing the prevalence risk for retinopathy increasing from 12.7 per cent for 500 to 999 grams, to as high as 41.7 per cent for greater than 1,500 grams.[2]  The cumulative dose for patients taking PPS is approximately 100 grams per year, thereby leading to potential retinal damage within three to five years.
All patients on PPS should be notified of the risk of retinal toxicity. Patients prescribed PPS now or in the past should undergo a complete eye exam by an ophthalmologist experienced in the identification of this disease entity. Special testing, including optical coherence tomography and fundus autofluorescence, will be required as part of the examination. If any toxicity is detected, PPS should be discontinued as this toxicity is permanent and irreversible.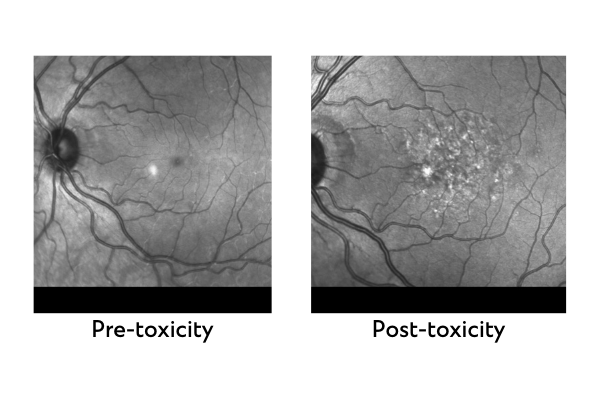 References
[1] Pearce WA, Chen R, Jain N. Pigmentary Maculopathy Associated with Chronic Exposure to Pentosan Polysulfate Sodium. Ophthalmology. 2018;125(11):1793-1802. doi:10.1016/j.ophtha.2018.04.026 [2] Vora RA, Patel AP, Melles R. Prevalence of Maculopathy Associated with Long-Term Pentosan Polysulfate Therapy. Ophthalmology. 2020;0(0). doi:10.1016/j.ophtha.2020.01.017