By CPSA Registrar Dr. Scott McLeod
Read time: 2 minutes
On May 26, CPSA's 2022-2026 strategic plan was officially approved by Council. Providing the strategic direction to an organization is one of, if not the most important, role for a governing body such as CPSA Council. Now that the new strategic direction has been approved, Council will hold the entire CPSA team, including myself, accountable for turning that strategy into action.
Our last strategic plan was set 10 years ago and, as you know, a great deal has happened since then. As we enter the next five to 10 years, we will likely continue to see significant changes and disruptions to Canada's healthcare system. What is it they say? The only constant is change. With this in mind, CPSA must be prepared to adapt to the ever-increasing expectations on medical regulators without losing sight of our mandate to protect Albertans.
The 2022-2026 strategic plan states that CPSA's vision is "professional, ethical and competent physicians providing the highest quality care for all Albertans." In order to achieve that vision, CPSA's mission has been updated accordingly: "to serve and protect all Albertans, contributing to their health and wellness, by supporting and guiding physicians to proudly provide high quality care together with healthcare partners and patients."
As I've noted before, most physicians in Alberta are already meeting the expectations set out by Council, and I can't thank them enough for their continued dedication to health care in our province. Unfortunately, there are some physicians who may be struggling to meet the expectations outlined in the strategic plan. We believe the best way to protect and serve the public is to continue helping those who may be struggling. If the past few years have taught us anything, it's the importance of supporting those around us.
In order for us to achieve the mission and vision put forward in the new strategic plan, CPSA Council has outlined five key strategic directions they would like us to focus on.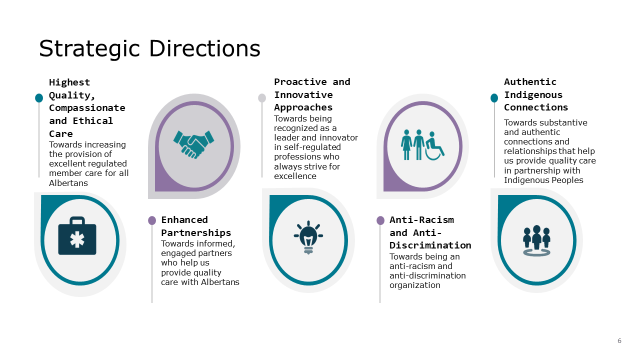 It is critical to note that these five strategic directions are not independent of each other. As with most other things in our healthcare system, they are interconnected. For example, if we want to help physicians provide high quality, compassionate and ethical care, we'll need to work alongside our key partners such as Alberta Health, Alberta Health Services, the Alberta Medical Association, the Health Quality Council of Alberta, various Primary Care Networks, and others. If the past two years have taught us a second thing, it's that we can't rely on the way we've always done things; we need to find new and innovative approaches to medical regulation that reflect the evolving needs of the profession. Last, but certainly not least, we will never be able to achieve high-quality, compassionate and ethical care without developing authentic Indigenous connections and dismantling the discrimination that exists in our care systems. These are only a few examples of how the five strategic directions connect and contribute to CPSA's overall mandate of protecting the public, and I encourage each of you to read the one page summary of the strategy for more details.
Seeing our new strategic plan reflected in the work we do every day will be important for us to remain relevant as an organization. Over the next several months, we will be developing action plans to execute our strategy, and I hope to share updates on our progress near the end of the year.