Thank you to the 733 physicians who responded to the brief feedback survey at the end of the 2021 Renewal Information form (RIF). Your feedback helps us streamline our tools and work better to support you in practice.
We recognize there is still a lot of work to do, but are happy your feedback shows we're moving in the right direction.
Here's a look at what physicians are saying: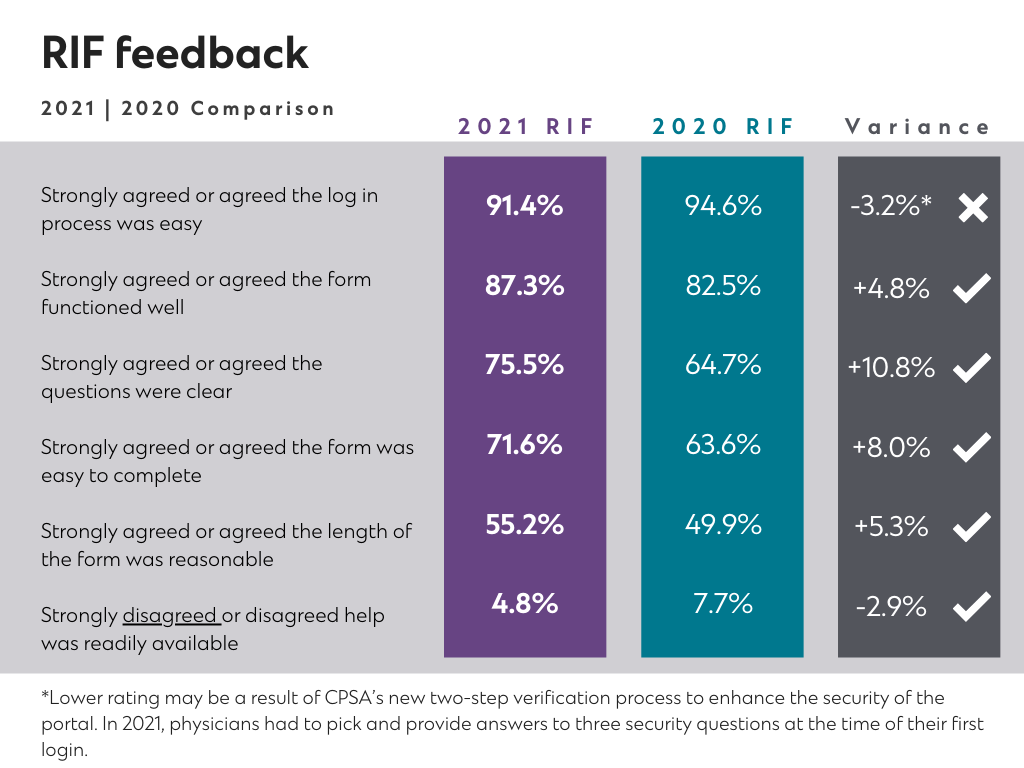 Listening and acting on your feedback
After the 2020 RIF, many physicians commented on the long length of the form. Others said it would help to have more pre-populated data.
We're listening. For the 2021 RIF, we removed the Patient Records section, Practice Interests question and Education Outreach section, which had multiple-choice questions about CPSA's Standards of Practice. This helped shorten the form, but we still needed to add other questions to meet the continuous evolution of health care and our work. For example, this year's RIF included a new, more relevant section on digital health and virtual care. We also added a new section to inform CPSA's new Physician Practice Improvement Program (PPIP), led by our Continuing Competence department.
It's continual work for the RIF team to find the right balance on what to include, adjust or remove. We thank you for your feedback—it helps shape our decisions.
Next steps
We commit to reviewing all the comments from the 2021 RIF feedback survey and identify workable solutions. Our goal is to continue improving the RIF. If you have additional comments, please email revu.inquiries@cpsa.ab.ca.