Our process at-a-glance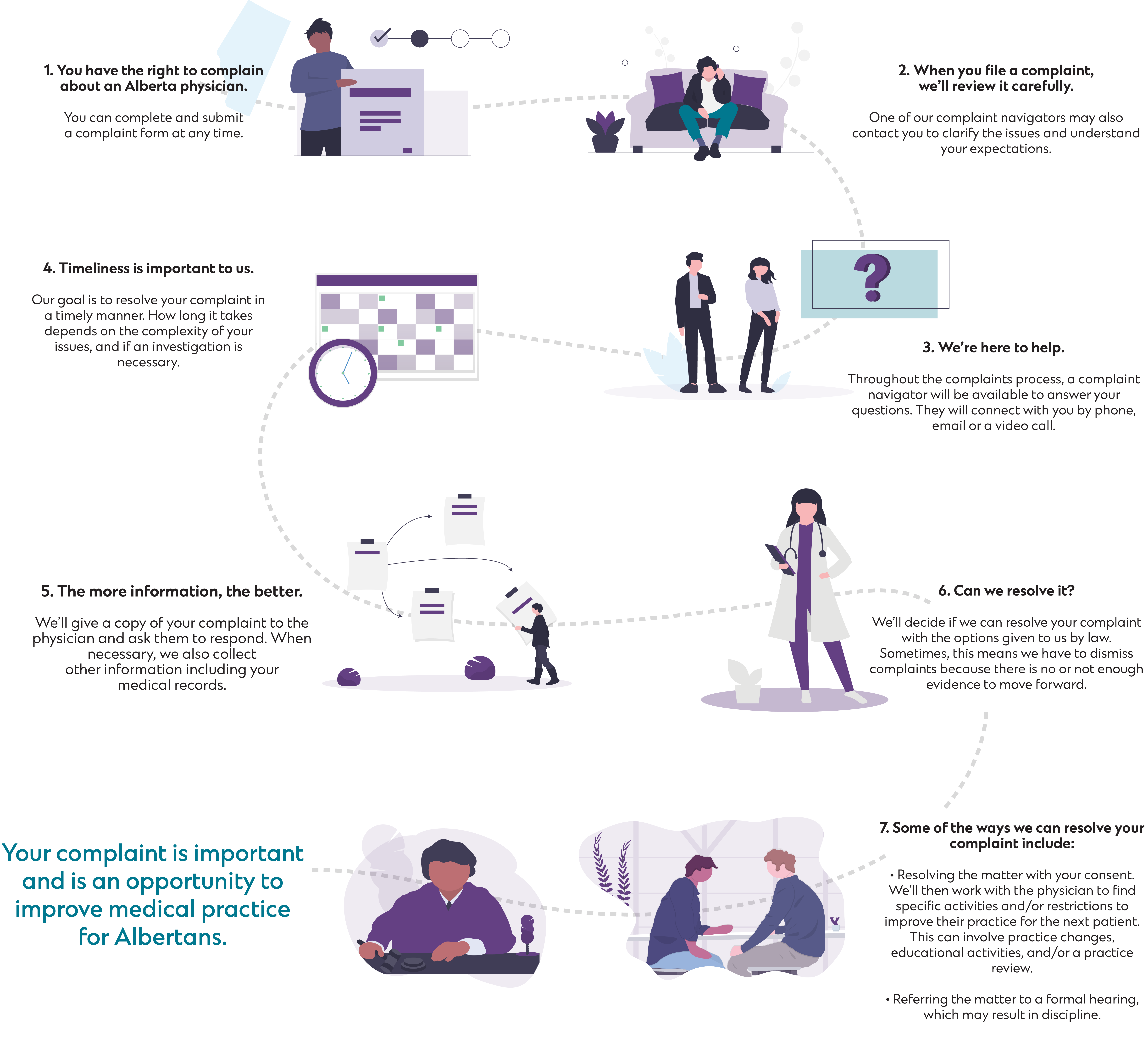 Did you know we have a Patient Relations Program to help those who've experienced sexual abuse or misconduct by their physician?
Our approach to resolution
Direct Resolve
An informal resolution process best suited for single-issue complaints, usually related to practice management or explanation of a medical decision. With this process, we encourage the physician to work directly with the complainant to resolve the matter. Open and honest discussion between both parties helps them to understand the issues and often a simple explanation or apology can close the file. More importantly, both the physician and the complainant learn from this process, improving future interactions.
Resolve with Consent (without investigation)
An informal resolution process used when the complaint seems straightforward, but one in which the physician needs to provide further explanation to the complainant and CPSA about the care provided, or make a change to their practice.
After we get consent from both the physician and the complainant to proceed with this approach, we'll work directly with the physician to address the complaint. The underlying issue in many of these complaints is poor communication, often around patient consent or follow-up care rather than lack of knowledge or skill. Resolve with Consent enables us to respond quickly to the complaint and allows the physician to explain their care or actions, or implement practice changes sooner.
Investigation
A formal process used for complaints that are serious or have complicating factors, such as when the complainant has no authority to receive medical information about the patient. These complaints often involve more than one physician and require additional information from others involved, including medical records.
An investigation is also mandatory for complaints involving a serious allegation of unprofessional conduct, including sexual abuse or sexual misconduct.
Resolve with Consent (after investigation)
A collaborative process used when an investigation identifies a problem with the physician's practice. In this situation, we work with the physician and complainant to allow for effective and timely resolution. For these complaints, both the complainant and the physician must agree on how it can be resolved, which may include a peer review, assessment and/or educational activities. This quality improvement approach results in better care for future patients.
Dismissal (after investigation)
Occurs when an investigation finds no evidence of unprofessional conduct. When a complaint is dismissed, the complainant can request a review of that decision.
Dismissal
Sometimes a complaint lacks sufficient information to identify unprofessional conduct, or it's frivolous or vexatious in nature. In these cases, the Health Professions Act allows our Complaints Director to dismiss it with no further action. When this happens, the complainant can request a review of the dismissal decision.
Hearing
Disciplinary hearings occur when informal methods of resolution are unsuccessful, or when a complaint investigation reveals a serious breach of a practice standard or ethical conduct by a physician, such as sexual abuse or sexual misconduct. Learn more about hearings.
FAQs for complainants
To see more FAQs about Complaints, click on All FAQs and filter by "Complaints"
All FAQs
Can I be sued for filing a complaint?
No. However, if you distribute copies of the complaint to others, that could be considered libel and put you at risk legally.
How do I complain about a physician?
To file a formal complaint, you must complete and sign these two forms:
If you have questions or require assistance completing the forms, please contact a CPSA complaint navigator.
How do I complain about a walk-in clinic?
If your complaint is about a specific physician working in a walk-in clinic, you can fill out and submit CPSA's Complaint form. If your complaint is about office procedures or the staff of a walk-in clinic, please talk to the clinic manager or physician overseeing the clinic.
How long does the complaints process take?
We try to resolve complaints in a timely manner. However, reviewing a complaint can take months or years, depending on the complaint's complexity, length of investigation and availability of experts (if required).
If I complain about my physician, will my medical records be accessed?
CPSA must have access to patient information and records to properly investigate a complaint, and the physician involved in the care outlined in the complaint must also have access to this information to respond to the complaint.
All complainants are asked to sign a consent form allowing for the access and release of applicable patient records and medical information when a complaint is filed.
Patient privacy is taken very seriously. Any health information gathered as part of a complaint investigation is done so in accordance with the Freedom of Information and Protection of Privacy Act and the Health Information Act.
Is there a time limit to file a complaint?
No, but filing a complaint sooner helps make the process more effective.
What are possible outcomes of a complaint investigation?
The complaint may be dismissed if evidence does not support the complaint or there was insufficient evidence to proceed.
We may work with the physician to make necessary practice changes. This requires consent from the complainant.
The complaint may go to a formal hearing, which can result in discipline action against the physician.
What happens after I complain about a physician?
What is reviewed during an investigation?
Investigations include collecting medical records and interviewing any individuals who may have relevant information about your complaint.
Who do I speak with about concerns regarding care from a non-physician or facility?
For questions or concerns about care provided by non-physicians and/or standards of accommodation received by a patient in a hospital, nursing home, non-hospital surgical facility or community program administered by, or under contract to, Alberta Health Services or Covenant Health, contact the AHS Patient Relations Department or Covenant Health, depending on the facility. If the concern is regarding a privately owned facility, then please contact the management of the facility directly.
You may also contact the regulatory authority (e.g. Alberta College of Pharmacy for pharmacists) of an individual healthcare provider involved.
Will I be financially compensated if my complaint is upheld?
No. If you are looking for financial compensation you should obtain legal advice.
Will the physician know I'm making a complaint?
Yes. When we notify the physician that we've received a complaint, we give them a copy of your written complaint to review. We may also ask them to respond to it.
Contact us
Complaints Line: 1-800-661-4689 (toll-free in Canada)
Physician Line: 1-800-320-8624 (toll-free in Canada)
Please be advised we are experiencing a high volume of inquiries. We will strive to get back to you within 10 business days.
We accept signed and completed complaint forms by email at fileacomplaint@cpsa.ab.ca or fax at 780-424-9617. For more information, please see how to file a complaint.
Learn more about filing a complaint